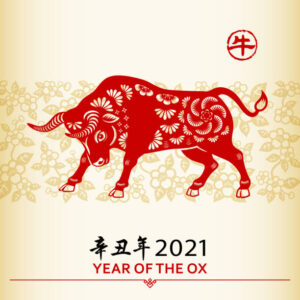 HAPPY CHINESE NEW YEAR
This is the Year of the Golden OX
February 12, 2021 is the start of the Chinese Year.  It lasts 16 days and ends with the lantern festival.   The Chinese calendar is based on the lunar calendar.  The Chinese zodiac is seen to influence people's personalities, career, compatibility, marriage, and fortune. The wisdom of the 12 animals gives us a story of the strengths and wisdom in each year.  It is a 12 year cycle, with each of the Five Elements are associated with that animal every year.  All born within a specific date and time are seen to carry the wisdom within.  Lilliam Bridges gives an amazing account of the year to come.
Click this link to read Lillian's interpretation of the Chinese Year of the Golden Ox 2021  By Lillian Pearl Bridges.
The Ox is the second animal in the Chinese zodiac the Chinese New Year is based.  The ox or cow is associated with agriculture and hard work.  It os often slow and patient.  It has a sense of calm and generosity.  The cow is a sacred animal in many cultures and something to be inspired and revered.
The most important ideals this Chinese New Year are kindness and compassion.  It's a time to help people you love and those struggling to get by.  Generosity is a deep value and a gift.
This year is associated with the yin metal or gold, precious metals coins, jewelry and gems.  Perhaps a good time to invest with caution and refinement.  Promises and virture will be respected and unethical behavior will not. Precious time spent with people you care about is important and this will be the year we spend time with those closest to us. We value the long term relationships we have built over the years and for years to come.
Refinement comes with the yin metal.  Whether its in yourself, your home, your responsibilities, your profession and hobbies, your community, state and country; it is a time to build upon the skills we know. Build our knowledge with honor and respect.
Food, decorating, and fashion brings subtle sophistication and elegance.  These refinements are comfort and beauty based.
The metal is associated with the lung and colon. Intake and out put are important this year.  What goes in, comes out too.  We want to absorb good food to take in the nutrient and the minerals that sustain our lives.  It is important to go more mediation and qigong. Singing can bring joy to many people.
Enjoy life and be patient.  These are my random thoughts of the year to come.  Enjoy and read more, learn as much as you can because knowledge is endless and will endure past our greatest of great grandchildren: pass it on.  That s one of the deepest gifts one could give.
With love,
Pamela